Featured in the Korea Tourism Organization's newsletter

Flipping through countless pages of travel articles and guide books, there is no lacking of coverage on Seoul. The contents often revolve around the conventional tourist hot spots, the must-try common Korean dishes and the latest trend in shopping.
Many seasoned travellers we spoke with are very familiar with Seoul. It is no surprise that many label Seoul as another exciting metropolitan city for the beauty and shopping fanatics. Others think of kimchi, ginseng chicken, bibimbap and bulgoggi, just to name a few of the internationally-known Korean cuisines.
But how much do you know about Seoul? Have you taken a trip out of the downtown Seoul, or caught one of the country's most popular non-verbal performances? Have you ever tried eating out at the Pojangmacha (street stalls selling snacks)? Maybe yes to some.
This dynamic city offers 24/7 shopping opportunities and affordable beauty and wellness products and services that satisfy every individual's beauty regime. The nation is also naturally blessed with abundant supply of seafood, seasonal greens and other forms of natural seasonings that add colours and flavours to the food. For food connoisseurs seeking gastronomical journey, there are much more the city is offering and waiting for you to explore.
There are many "off-the-beaten" tracks and unique experiences Seoul offers. Let's unveil the hidden secrets of this capital city.
Kind regards
Caitrin Moh
MICE Manager
Korea Tourism Organization (Singapore Office)
Walking into the time machine – Bukchon Hanok Village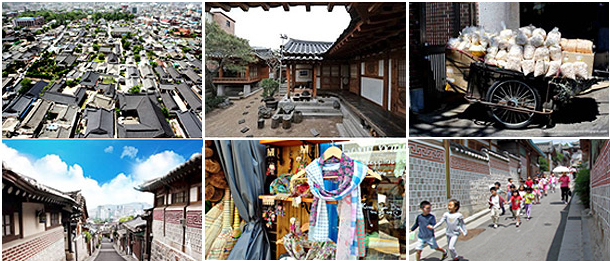 People

often associate hanoks (traditional Korean houses) as eateries serving hanjeongsik (traditional multi-course meals) in the tucked away on the outskirts.

Where can you find hanoks amid the dense concrete forest in Seoul?  Not those relicas found in the folk villages. I am referring to the real hanoks.

Just take a closer look at the map of Seoul downtown area.  You will find the Bukchon Hanok Village in the Jongno-gu, nestled quietly between the famous Gyeongbok Palace and Changdeok Palace.Formed by over 900 hanoks, Bukchon is the real-time village where the Yangban (powerful noble families and royal clan members) resided during the Josoen Dynasty.  Most of the hanoks in Bukchon were built in 1930s to resolve housing problems caused by the huge migration of population into the capital.  As urbanization speeds up, the village land was regularly leveled to make way for the cookie-cutter high-rise apartments the urbanites aspired.Once a neglected residential area, the village has been gaining a lot of attentions and attracted many curious visitors in the recent years.  Thanks to the TV dramas such as Cinderella's Sisterand Personal Taste, where modernized hanoks were widely displayed in these popular dramas.


Many tired hanoks undergone nostalgic rejuvenation and now exhibiting their yester charm and beauty.  Some have been refurbished into fusion hanoks with modern architectural features and facilities; whilst others converted into guest houses, museums, art galleries, craft workshops, souvenir shops, restaurants, tea houses and cafes.

Some museums and workshops offer hands-on session at nominal fees, a great way to enhance your learning experience on Korean tradition and cultures.
Though modernization has taken place in this village, walking along the maze-like alleys, rubbing shoulders with the locals certainly give you the taste of authenticity and the Korean way of daily lives.

(For more information on Bukchon, you may refer to the website: http://bukchon.seoul.go.kr/)
Fresh on the plates – Noryangin Fish Market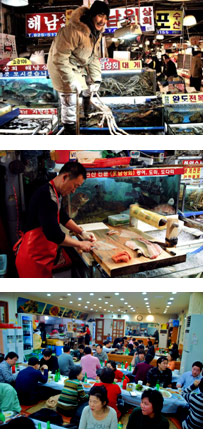 Briny smell, slippery floor, streams of hurried souls, cacophonous cries and drumming of cutting boards fill the air of this huge weathered warehouse in the heart of Seoul. This isNoryangjin Fish Market, the oldest and the largest wholesale fisheries market Korea.
Built in 1927, the 700-stores market serves about 30,000 customers daily round the clock.  It is also responsible for 40% seafood supply in Seoul.  For those night owls or early birds who are looking out for an unconventional experience, you may want to visit their auction floor at level 2, witnessing the wholesale auction process.
Here you can find endless selection of fresh and exotic catches, parting at 20 – 30% cheaper than retail prices in the city.  It is certainly a great learning journey for city dwellers like us.  There is another section selling dried items such as fermented seafood pastes used for flavouring and pickled kimchi too.
You can savor the freshest seafood feast without hurting your purse by simply picking up some seafood items and getting the stall owners to slice them up for you.  Bring your purchases to one of the dozens of small eateries in the market and team them with hot steaming seafood platters, stews and soups.
You can just forget about calorie counts and cholesterol level here.
Note: Noryangjin Fish Market is reachable by subway (Subway line 1, Noryangjin Station).Water is everywhere at the fish market, so leave your sandals and designer flats at home.
Explore and experience Korea with O'ngo Food Communications
For those who are looking for hands-on, immersive experience with Korean food or team building activities, O'ngo Food Communicationsoffer cooking classes with market tours and multi-destination tours.  Their full-equipped kitchen is able to accommodate up to 40 people per session.  All classes and tours are conducted in English or Japanese.

O'ngo Food Communications
Jongno-gu, Nagwon-dong, 55-1 3rd floor, Seoul, Korea
Office: 82-2-3446-1607   Mobile: 82-10-6706-7769  Email:
[email protected]
Website:
www.ongofood.com
Food Tours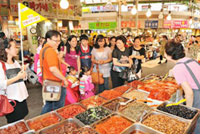 Korean Food Trail
The 2.5 hour walking food trail will show you the real Korea as the tour will bring you to the classic shops, street stalls and restaurants. The tour starts with a cooking demonstration and tasting session at the O'ngo Culinary School, follows by a walking and snacking trip down the streets and alleys in Seoul. The tour will conclude with a full lunch a local restaurant. So come hungry for the tour!
Korean Night Dining Tour
The 4 hour tour will show you the drinking culture and bar food in Korea. The tour will start from Kwangjang Market where you will see varieties of street food displayed at the stalls. The food guide will bring you to the back alley for a typical Korean bar fest, sampling local alcohol. Next on the list will be Garmaeggisal (pork barbeque) grilled on charcoal grills. The tour wraps up with sampling of makgeoli (rice wine) and pajeon tasting.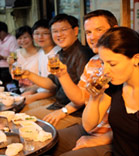 COEX Food Tour
This tour is specially designed for busy MICE executives who have no or limited time to venture out during their stay in Seoul. The tour will bring you to a traditional market where you can try out a variety of different street foods, snacks and local produced. The food tour continues with a visit to a Korean BBQ house famous for its marinated meats and frozen yogurt. The tour will end at a local rice wine house to savour their pan-fried delicacies.

Korean Fish Market Tour
The 2.5 hour tour to the Noryangjin Fish Market allows you to witness the bustling life with constant flow of hurried souls and fresh catches. After the tour, you will pick your lunch from the tanks and have them prepared at one of the restaurant in the market. Please wear comfortable clothes and footwear for the tour.
Private Tour
O'ngo Food Communications also offer customized tour for those would like to maximum their time in Korea to see as many of the authentic markets, palaces and special interest aspects such as architectural, photography, cuisines, and so on. For further enquiry, please contact Daniel Gray at
[email protected]
We left our footprints at KBS Studio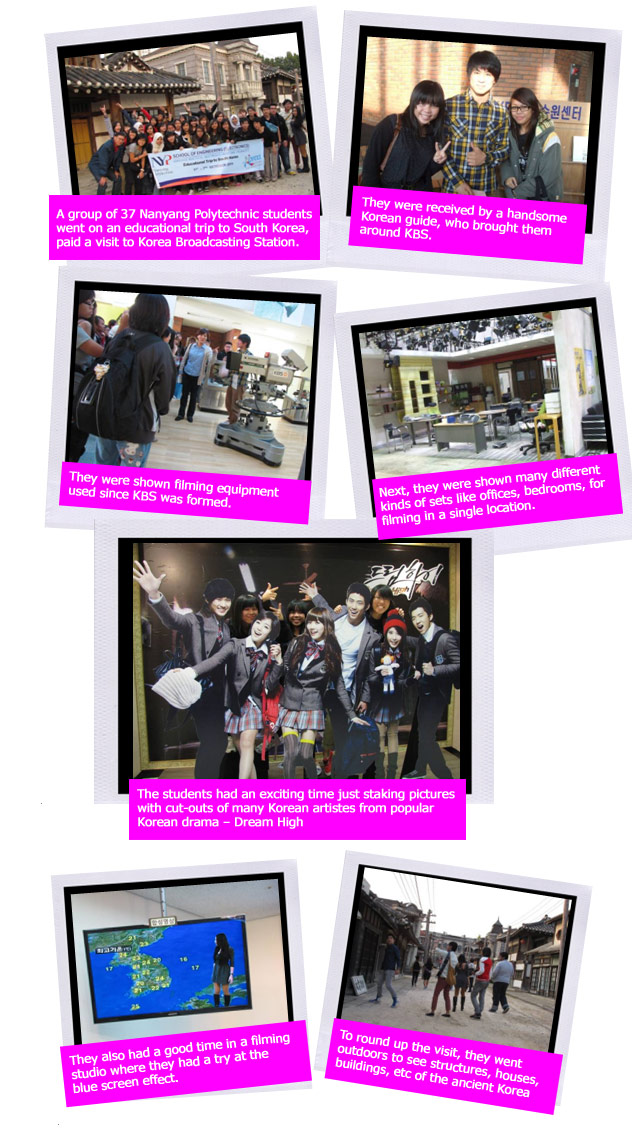 In summary, the students have a better understanding on how shows and dramas are being produced.Special thanks to Ms Belinda Chua and Mr Ng Joo Kee, lecturers of School of Engineering and Electronics (Media & Infocommunication), Nanyang Polytechnic, for sharing their experience with us.

Group led by:


Commonwealth Travel Service Corporation Pte Ltd (Private Collection / M.I.C.E.)
1 Commonwealth Lane #03-10 to 18 One Commonwealth Singapore 149544
Tel: +65-6530 0338      Fax: +65-6532 0235      Email: 

[email protected]
About Korea Tourism Organization
The Korea Tourism Organization (KTO) is a leading economic development agency in tourism. Known for partnership, innovation and excellence, KTO champions tourism, making it a key economic driver for Korea.
About Korea MICE Bureau
The Korea MICE Bureau (KMB), under the auspice of the KTO, aims to establish Korea as a premier destination for MICE visitors. KMB provides consultation and assistance to event organizers who are considering Korea for their MICE events. The unit works closely with other affiliates such as meeting planners and other regional convention bureaus to ensure that every MICE event held in Korea is successful as well as memorable. For more information, please visithttp://www.visitkorea.or.kr or http://k-mice.visitkorea.or.kr
Korea Tourism Organization
Korea Plaza, Samsung Hub, #01-02, Church Street, Singapore 049483
Tel : 65-6533 0441 Fax : 65-6534-3427 www.visitkorea.or.kr
O'ngo Food Communications Featured in Gadling's Travel Site
You can see the original post here: http://www.gadling.com/2011/11/04/seoul-food-an-eating-and-drinking-tour-of-korea-s-capital/
Seoul food: an eating and drinking tour of Korea's capital
by Celeste Brash (RSS feed) on Nov 4th 2011 at 12:00PM
Visiting Seoul during a mid-winter freeze isn't something I'd recommend to anyone unless, like me, you go there to eat. The few trees are leafless, the local's faces are sullen with a determination to keep warm and trips to the local sights, such as the beautifully stark outdoor royal palace, only make you want to retreat to a heated room. Luckily, Daniel Gray is there to save us all with his nighttime eating and drinking tour. This is the delicious side of Seoul where you can get as warm and tipsy from atmosphere as from the mugwort beer. And any time of year, the food is excellent.
I don't often take tours but Dan's came highly praised by a foodie friend, so I decided to try it. Dan is a Korean American who started a food blog after moving to Seoul to find his roots. As his blog grew, people began asking him to take them to the places he wrote about, so about a year ago he started a culinary tour company and cooking school called O'ngo Food Communications with his friend and chef, Jia Choi.
The night tour is done using local transport or on foot. On the night of our tour, our first stop is barbecue. Dan leads me through an alleyway thick with steam from food stall workers washing their dishes on the sidewalk. The humble neon shop signs and row of rudimentary restaurants look eerily like futuristic scenes in the movie Blade Runner. Our destination is a basic stall-style restaurant covered in clear plastic to keep out the cold. The small tables each have a charcoal barbecue at their center and the place is packed with locals. It smells like cooking pork and the damp air is warmed by body heat and hot grills.
We find a table crammed between two others and Dan begins ordering in Korean. We get a few kinds of pork, the best being garnaeggisal, a cut from near the lungs and back, which we grill alongside whole mushrooms and cloves of garlic. We dip the cooked meat in a bean and chili paste mixture called samjang, then wrap it in gaennip (sesame leaf). To wash this down, we drink shots of cheongha, a rice alcohol that tastes like sweet sake. Of course I'm the only non-Asian in the place but all that earns me is a few fleeting smiles.
"Save room," Dan tells me as I down another perfect, caramelized pork skewer after complaining about being full.
Next we walk to a small cafe called Pub of the Blue Star. It's an arty place with young couples snuggling in the corners, the unpainted wood walls decorated with the owner's travel photographs. We sit at a simple round table with small bench seats. Again Dan orders in Korean, and soon we're served what looks like a miniature witch's cauldron full of green pond scum.
"It's called makgeolli– it's better than it looks," Dan says, noting my confused expression. "Do you know what mugwort is?"
I do know. It grows in the US and hippies use it to have good dreams – or something. Dan ladles the pea green, frothy drink into our bowls. The rustic drink is known as "farmer's beer," and it's delicious: slightly fizzy, subtly spicy and something I could drink vats of if not careful. The owner makes several other variations such as green tea and mulberry, and I'd like to try them all but decide to stick with one for sobriety's sake. So we drink the makgeolli with the cafe's tasty homemade kimchi and talk food.
I of course want to try live octopus, since that's what I've heard is a specialty here. I have an idea that the critters are tiny, like bite-sized wriggling cheese puffs.
"Um, not really," says Dan. "In fact, I took some people this morning and they ate some. Do you want to see the video I took on my phone?"
He shows me a terrifying clip of a man stuffing a fist-sized octopus in his mouth with a chopstick. The octopus is slathered in sesame oil to make it go slick down the gullet.
"Around four people die every year from eating octopus this way," Dan explains. "The tentacles grab onto your windpipe and strangle you."
OK, let's skip the octopus. Instead Dan suggests we go to the market to eat pancakes called pajeon. I tear myself away from the yummy mugwort brew and again we walk through the cold steaming streets. The market starts in what feels like a mid-city pedestrian tunnel, damp and strewn with litter. We pass vegetable sellers, then the tunnel opens to a wider, covered area stuffed with restaurant stalls and vendors.
It's getting late and some places are closing but there are still plenty of bubbling pots of soup, fresh fish on display and groups of locals bent over bowls of noodles. We go into a shop where pajeonare being fried up by a grinning grandma. The place is full of young people. Dan orders the specialty modumjeon, a mix of pan-fried snacks made from spam, flounder, kimchi and tofu alongside mungbean pancakes. This is all to be eaten with shots of soju, Korea's national drink. There are two sojuvarieties: "original," which is 20.1% alcohol, and "fresh," which is slightly less challenging at 19.5%. Both taste like paint thinner to me, but I manage a few shots. Everyone around us is downing sojulike water. Meanwhile, the eggy, protein- and vegetable-rich pancakes are just the healthy, salty type of thing that goes down well with drinking.
At the end of the night, I'm not only full, warm and a bit drunk — I also feel like I've tasted the best food in town without feeling like a dumb tourist. Dan has been fabulous company. During my next trip to Korea I'll definitely take his daytime market tour – but I think I'll skip the live octopus.
For more information on O'ngo Food Communications: www.ongofood.com.
O'ngo Food Featured in Politiken Newspaper in Denmark
Sådan får du styr på Sydkoreas lækre eksotiske køkken
Når retterne er mærkelige, og ingen taler engelsk, er det svært at bestille sin aftensmad. Få madbloggeren Daniel Grays tips til det sydkoreanske køkken.
Vi sætter os ned med store ambitioner. Nu skal vi ind under huden på det sydkoreanske gadekøkken, som man ser eksempler på i hele Seoul.
Og de to furede kvinder bag disken her på Kwangjang-markedet vil os uden tvivl det bedste. De kan bare kun tale koreansk, og selv om de peger og gestikulerer, det bedste de kan, så ender vi alligevel med at bestille totalt i blinde. Det resulterer bl.a. i nogle meget fede skiver grisefod og et blandet assortiment af mere eller mindre genkendelige friturestegte stykker kød og grøntsager. Det er ikke dårligt, men heller ikke vildt lækkert.
LÆS ARTIKELHer er de lækreste gadekøkkener
Det går bedre, da vi et par dage senere, en fredag aften, vender tilbage til markedsstandene. Denne gang har vi dog også indkaldt hjælp i form af Daniel Gray, der står bag Korean Night Dining Tour. Han forlod ellers landet som 5-årigt adoptivbarn, men kom tilbage til Sydkorea for at lære sit ophav at kende.
For fem år siden begyndte han så at skrive om det koreanske køkken på bloggen Seoul Eats sideløbende med sit arbejde som madskribent for diverse magasiner. Bloggen blev hurtigt populær, og de mange læsere fra hele verden begyndte regelmæssigt at bede om råd til gode restauranter – og om han ikke ville tage med ud at spise, mod at de betalte. Mange af dem bad om hjælp lige præcis, fordi de ikke kunne kommunikere med tjenere og kokke i en ellers ekstremt spændende madverden.
LÆS GUIDEBangkoks bedste spisesteder
»På et tidspunkt slog det mig, at jeg ikke kunne bruge al min tid på det – men at jeg i stedet kunne gøre det til en del af min forretning«, fortæller Daniel Gray på en af aftenens gåture fra én madoplevelse til den næste.
Det gør han så godt, at hans 'Night Dining Tour' i mange måneder har været den højest bedømte oplevelse i Seoul på Tripadvisor.com. Senest har hans virksomhed O'ngo Food føjet madkurser til programmet til de udlændinge, der ikke kun vil spise, men også tilberede koreansk mad. For begge veje gælder, at belønningen er det hele værd. Det koreanske køkken har det bedste fra det japanske og det kinesiske – og så lidt til.

FOTO:  Pelle Rink
Denne aften er vi ni på natteturen. Fire amerikanere, en kineser, to amerikansk-koreanere og to danskere. Vi mødes kl. 6 om aftenen på O'ngo Foods kontor og går ud i Seoul, hvor mørket så småt er ved at falde på. Aftenens første af i alt fire stop plus det løse er Bongchu Jjinddak i Insadong-kvarteret, der serverer en fuldstændig fantastisk kyllingegryde fra Anda-regionen i Sydkorea. Ligesom med de fleste andre koreanske retter er der brugt rigeligt med chili, men det hjælper, at gryden er akkompagneret af fermenteret kimchi-suppe og af cheungju, en klar risvin, der minder om sake.
LÆS GUIDEFem anderledes spiseoplevelser i Bangkok
Vi siger »camdei«, skål, og så introducerer Daniel Gray aftenens første koreanske drikkespil. Han snor en metaldel fra cheungju-flasken, og når den er helt stram, skal vi skiftes til at knipse til den. Naboerne til den, der knipser den af, skal drikke ud. Det er anderledes, men ikke langt fra de danske varianter.
FOTO:  Pelle Rink
Selv om snakken går lystigt, beder turguiden os allerede efter en god halv time om at gøre os klar til at gå. Vi har meget, vi skal nå at se og smage. Vi går ned af hovedgaden i Insadong, og efter to korte stop, hvor de modige først spiser en kogt silkeorm, og hvor alle dernæst måber over nogle meget underholdende gadesælgere, der fremstiller en slags kager, som består af 16.000-strengede honningtråde, dykker vi ind i en smal gyde.
Efter fem minutters gang ender vi i en lavloftet restaurant uden navn med en baseball-træningsbane som meget nær nabo. Her er kun én ret på menukortet: Grillede makreller. Det ville vi godt have kunnet genkende – men vi havde aldrig fundet stedet. Til at drikke får vimakgeolli, ufiltreret, sød risvin.
Og så er vi på farten igen. Vi finder vej tilbage til de større gader, men der går ikke længe, før vi sætter os på en decideret klassiker af en koreansk restaurant: En gogi gui – barbecuerestaurant. Dem finder man overalt, og de er kendetegnede ved de udsugningsrør, der hænger over alle borde. Ligesom med flere andre typer restauranter i Korea, skal man nemlig selv tilberede sin mad her.
FOTO:  Pelle Rink Vi har siddet på et par stykker af slagsen før denne aften, men det har igen været uden at kunne spørge om, hvad vi skulle gøre – hvorefter vores tjenere har gjort alt for os. I aften får vi en udførlig instruks af Daniel, mens der kommer bunker af galbi, marinerede okseribben, og bulgoggi, tynde marinerede okseskiver, på bordet.
Mens vi venter på, at kødet steger, mikser vor guide en besynderlig drink. Han hælder først cola i bunden af et stort glas, sætter så et shotglas fyldt til randen med soju, en slags sød vodka, ned i, og slutter af med forsigtigt at toppe det hele op med øl. Drinken hedder kkojing ga meh, 'sødt efter bittert' og man skal drikke den i ét hug for at få oplevelsen, navnet hentyder til. Og øl, sød vodka og cola smager faktisk udmærket sammen. Man skal bare huske ikke at sluge shotglasset også.
Komave og blodpølse forude
Efter endnu et lækkert måltid, hvor alle glemmer at holde igen med tanke på, at der er endnu et sted tilbage, skal vi på farten igen. Vi går endnu en gang igennem en meget smal og meget lang gyde, hvor der er en hel masse spændende restauranter, som alle stort set har køkkenet ude på gaden.
»Prøv at lade være med … at røre ved noget«, siger Daniel Gray med et skævt smil og sætter så det lange ben foran. Vi skal nemlig gå langt, før vi ankommer til vores blandede bekendtskab fra et par dage siden: Kwangjang-markedet.
Og når ret skal være ret, er det det mere udfordrende hjørne af det koreanske køkken, der regerer her. Man kan bestille komave, råt oksekød med æg og pære, råmarineret blæksprutte, blodpølse, grisenæser, meget mærkeligt udseende søpunge – og meget, meget mere.
Selv om klokken er halv ti, er der fuldt besat ved næsten alle de udendørs stande og indendørs restauranter.
»Det er fordi, de fleste arbejder til meget sent, og når de så har fri, går de ud og spiser – og drikker – med deres kolleger«, forklarer Daniel Gray, før han leder os indenfor på en restaurant, der har tre etager.
Vi får et bord i stueetagen, konstaterer, at vi ikke kan genkende noget af det, de andre gæster spiser, og venter så spændt på, hvad der kommer til os. Og vi skal have griselever, griselunge og griseindvolde med ris og blod samt sprøde mungbønnepandekager.
Daniel presser på. Han fortæller, at det faktisk er lækkert, at det er det traditionelle koreanske køkken, som man skal prøve, når man er i landet, og som for at sætte trumf på siger han, at lungestykkerne »er for de modige«. Det kan ingen af mændene i flokken naturligvis sidde overhørig. Og griselunge smager faktisk udmærket – konsistensen skal man dog lige overkomme.
Griseindvoldene med ris og blod er til gengæld bare lækre, og mungbønnepandekagerne er sikre vindere. Det hele bliver skyllet ned med soju og øl.
En halv time senere vælter vi ud på gaden igen. Efter fire restaurantbesøg er alle stopmætte og begejstrede. Madturneen med en kyndig guide har været sjov og har klædt os på til de kommende dages møder med sprogbarrierer på diverse barer, restauranter og gadekøkkener i den pulserende sydkoreanske hovedstad.
Ressource: http://politiken.dk/turengaartil/rejsenyt/storbyogkultur/ECE1420426/saadan-faar-du-styr-paa-sydkoreas-laekre-eksotiske-koekken/
Offentliggjort: Oct 13, 2011 8:13 AM
© POLITIKEN.dk
Lee Cham, President of KTO on our Night Dining Tour
Night Dining Tour O'ngo Food Communications
We got a very special request for a tour last month when the president, the head, the big cheese of KTO, Lee Cham came on our night dining tour. Mr. Lee came with his entourage and joined a group of other hungry and thirsty travelers on our highly ranked Night Dining Tour.  Mr. Cham was a perfect guest and he had infinite knowledge to share with the other guests on the tour. He speaks like a person that truly loves Korea. I learned a lot about his personal story on how he came to Korea and later became a celebrity on Korean TV.
Lee Cham at a Makgeolli Bar
Lee Cham with Cham Soju
Besides his personal life, Mr. Lee is a foodie. He loved all of the different locations that we went to and he had stories to tell about the ingredients, cooking techniques, and about his favorite chefs and restaurants. The other guests on the tour were enthralled about his stories and I was as well.
During the entire tour, passerby's came over to greet Mr. Lee and many of them commented on the good job he was doing as president of KTO.
It was a wonderful night and truly a pleasure to host such a man.
Dan
Pictures by Fred Ngo and Janet Lim
Noraebang
Come take a cooking class or take a Culinary Tour in Seoul! http://www.ongofood.com
Pictures are taken either with my Panasonic DMC-G2 Camera with 20mm Lens or with my iPhone 4G
O'ngo Food Featured in Olive Magazine in Britain
Wow! We have a blurb in BBC's Olive Magazine as the place to cook or to take a dining tour in Seoul. Thanks Marina for the mention.
Dan
O'ngo Food Featured in ABC7 San Francisco News
Cheryl Jennings and me
Cheryl Jennings and Chef Hyejin
I am starting to think that our company is onto something with this whole culinary tourism thing. Our company is growing quickly and we are getting quite a bit of press. Journalists are people and (luckily) they have to eat like everyone else. They have been joining our tours and asking for our cooking classes for stories to do on Seoul. Last month we were asked by Greg Derego if they could feature us in a story for ABC7 San Francisco. ; ;San Francisco is a favorite city of mine so our team was delighted to host them. Emmy award winning journalist, Cheryl Jennings, her husband, and Greg's wife joined us for a Kimchi and Bulgogi cooking class and our night dining tour.
I would like to thank them for contacting us and I can't wait to see the footage. My friends in San Fran, let us know when it airs!
Dan
The Man with the Plan, Producer Greg Derego
Our Night Dining Tour Guests
Filming at Kwangjang Market
O'ngo's President Jia Choi featured on Euronews for Korean Food
Last month when reporter Anne Devineaux came to Seoul and asked for advice on Korean food I was ecstatic to help. I made a few recommendations (but not all of them) and I think she did a great job on her report on the state of Korean food. Here is the story. You can see the video report on their website (link below). I was especially happy since she wanted to interview my good friend and business partner, Jia Choi. 
The South Koreans are keen for the world to develop a taste for their country, and they're using food to do it. Now there are culinary tours for overseas visitors in Seoul.
It is designed to shine the spotlight on South Korean cuisine, which to many western eyes is something of a mystery compared to that in neighbouring Japan or China.
Jia Choi is a Korean food expert who organises them.
"In western culture, you have appetizers, and then main and then dessert," she explained, "but in Korea, we just serve all everything in one table, and you design your meal. So when people come to visit Korea for the first time, they don't know how to eat. Sometime they just put all the vegetables on their rice and then mix it, so the culture itself is very different".
More and more western tourists are discovering how dynamic the capital Seoul can be and food plays a key role in the image of of a country.
South Korea is taking steps to encourage a new type of cuisine more easily accessible to foreign visitors.
It is a mix where East meets West.
In the capital's fish-market, one of the country's rising exponents of this new Korean gastronomy explains the trick — combining traditional recipes with western methods.
Hyun Jin Kang, the Head Chef at Jung Sik Dang restaurant said: "Traditionally for example, we would braise eels, but me, I cook it in a pan or in the oven." At Kang's restaurant out go the chopsticks and in come the knives and forks. And on the plate, fried eel in a garlic sauce with ginger and red fruit. It is haute cuisine aimed as much at Koreans as foreigners.
The chef went on: "Korean cuisine is maybe difficult for foreigners to get their heads around. We try to adapt the tastes and cooking methods for western palates. In the middle of the country we respect Korean cuisine, but for it to become better known abroad it has to evolve."
Read the rest here with the video on the Euronews site: http://www.euronews.net/2011/09/05/south-korea-s-food-goes-global/

Young South Korean chefs are increasingly finishing their training overseas. After several years in the United States and Dubai, Edward Kwon went home to Seoul and became a celebrity. He said before fusing culinary styles, you have to
overcome the language barrier.
"For someone who really wants to go outside the country there is a problem of communication. So I think that now our government realises that, and (is trying) to train more people to (in) English other country's languages, such as French or Chinese or Japanese. And now young generations actually are learning so fast. So I believe after four or five years, lots of Korean chefs will go outside the country to make some different types of restaurants"
Seoul does not only want to export its haute cuisine. There is a new Korean version of a fast-food chain — a concept they hope to develop the world over. Bibigo is a new type of fast-food can already be found outside Seoul, in Los Angeles and Singapore, and soon managers hope in Europe. On the menu, traditional Korean dishes like Bibimbap and side order that have beenb re-named "tapas".
If they are to succeed in promoting the country through food, the pioneering chefs have to overcome the challenge of introducing the country's cuisine to the world, without losing too much of the original taste of South Korea.
Copyright © 2011 euronews
O'ngo Food Featured in Monocle Alpino Magazine
Pick up a copy of Monocle Alpino. You'll find an article written by me (DG) about ski resorts in Korea and a recipe by Jia Choi for Mushroom Hot Pot. See the video here along with a link to where you can find the issue.
O'ngo Culinary School Featured in the Korea Herald Newspaper
O'ngo Culinary School Featured in the Korea Herald Newspaper
People attend a Korean cuisine cooking lesson at O'ngo Food Communications CulinarySchool in Nagwon-dong, Jongno-gu, Seoul.  (Courtesy of O'ngo Food Communications)
The Korea Tourism Organization has launched a new website (www.koreataste.org) which offers information about Korean food along with local restaurant reviews by food experts and food columns so that visitors canlearn more about Korean cuisine and culture. At the same time, more blogs are appearing run by foreign residents who love Korean food. They are posting recipes to share the delights and benefits of Korean food with other foreigners. But reading a recipe is one thing and actually making it is another, especially to those who are new to cooking or Korean food. For those who find it difficult to cook Korean food, Korean cuisine cooking classes are wide open to expats.
Seouleats.com

Seoul Eats is a blog-based website that features food recipes, restaurant reviews and many interesting food-related stories. It organizes various Korean culinary tours such as the Korean night tour and the Korean taste tour so that visitors can explore Korean culture while enjoying food and learning about Korean history and culture from experts. Seoul Eats is running a culinary school, O'ngo Food Communications, and it offers cooking classes in beginning, and intermediate to professional programs for each individual's needs or abilities. Classes are taught in English and Japanese and the beginners' program covers bulgogi, kimchi, dakgalbi (spicy chicken barbeque), haemul pajeon (seafood pancake), sundubu (soft totu stew) and dolsot bibimbap (stone bowl spicy mixed rice).
Location: From Jongno 3-ga station (Subway Line 5) Exit 5, make a right atSCH bank and then make the next right. It is across from the Crown Hotel.
Address: Jongno-gu, Nagwon-dong 55-1, 3rd floor, Seoul
www.seouleats.com
www.ongofood.com
Tel. (02)3446-1607
O'ngo Food Communication's First Culinary Tour is in the Chosun Newspaper